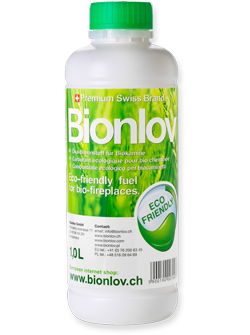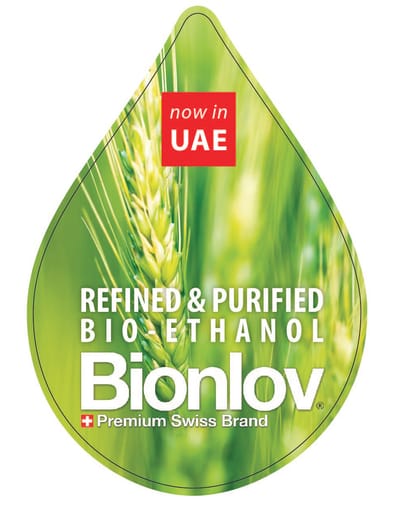 Flammengo is the exclusive Middle East distributor of Bionlov® Premium, a Swiss brand of bio-ethanol.
What is Bionlov® Premium ?
Bionlov® Premium is a Swiss, leading manufacturer of a superior fuel for bio-fireplaces.
Bionlov® Premium is a high quality bio-ethanol for devices allowing open fire.
Bionlov® Premium is a regenerative energy source
What makes Bionlov® Premium fuel so special?
Bionlov® Premium was developed in cooperation between Swiss and Polish specialists to guarantee the highest level of efficiency and quality.
The only combustion outputs are water vapor and CO2, both in safe quantities, comparable with those of a normal human breathing. This makes the fuel ideal for heating.
Bionlov® Premium burns clean
Bionlov® Premium burns odorless
Bionlov® Premium without smoke
Bionlov® Premium without ash
Bionlov® Premium without carbon black
The safety of Bionlov® Premium fuel has been certified by the National Institute of Public Health PZH.
How is Bionlov® Premium produced?
Bionlov® Premium represents the highest quality of ethyl alcohol, which is simply known as ethanol. Bionlov® Premium is an ecological fuel obtained through fermentation of some vegetation like corn, sugar canes, etc.
In addition, to improve the quality even more, it is refined and purified using the most modern molecular sieves.
To conform to international laws, Bionlov® Premium is denatured using some additives which makes it undrinkable.
Bionlov® Premium's specialists have tested with the major brands of bio-fireplaces in Europe.
How to safely store the Denatured Ethanol?
-Keep Ethanol in cool, dry and well-ventilated area.
-Ethanol should always be stored in its original container.
-Make sure the cap should be tightly sealed as ethanol is a volatile material and fumes are very flammable.
-Keep ethanol in a safe place AWAY FROM THE REACH OF CHILDREN AND PETS.
-do not place Ethanol under direct sun light.